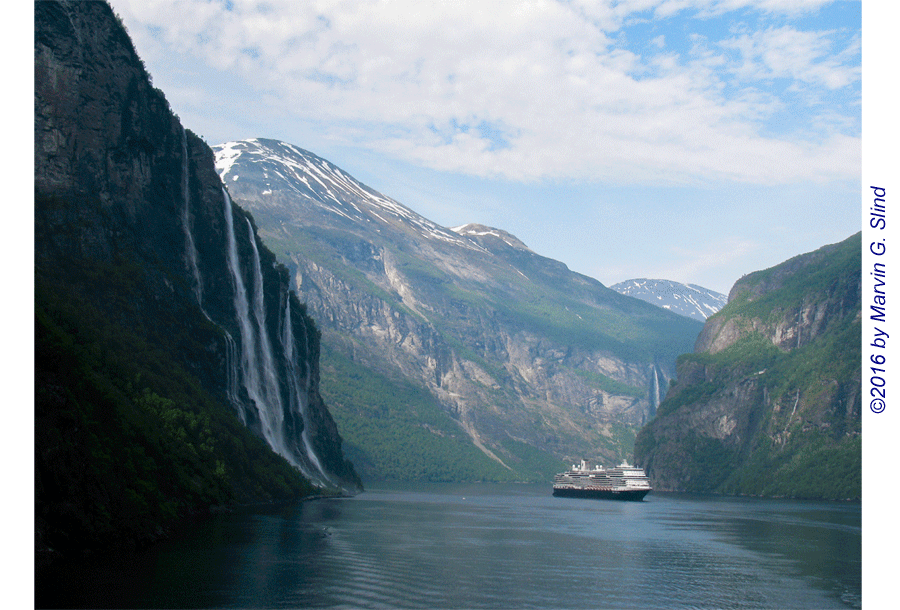 Cruise ship MV Koningsdam in Geirangerfjord, Norway, June 2016
---

---
Following my retirement in 2013, I still had an interest in teaching, at least in terms of lecturing and discussing historical topics of interest to me. But I didn't want to do it every day, and I definitely didn't want to have to grade any more papers or exams, or deal with the departmental and committee meetings that accompany a regular academic position. Mickey and I also wanted to travel. So, following the example of a college classmate, as well as another professional colleague, I decided to look into the prospects of lecturing on cruise ships. That seemed to offer the best of both worlds.
Although my major area of expertise is Northern Europe, I also had a minor field in Latin American History when I was in graduate school. Unfortunately, I never had an opportunity to put that to use--until 2014. Using that historical training, I've been able to lecture on two Caribbean cruises. And with my major areas of specialization in Northern Europe, I've also spoken on thirteen cruises in Scandinavia and the Baltic, as well as three transatlantic cruises (which combined my background in Northern Europe as well as Latin America--at least the Caribbean region).
From 2014 to 2018, I lectured in the capacity of "Destination" or "Enrichment" Speaker. Beginning in 2019, in addition, I began serving as a "Viking Resident Historian" on Viking Ocean Cruises, giving their Iconic Lectures, and leading "Resident Historian Forums."
My cruise lecturing experience has been with Royal Caribbean International, Disney Cruise Line, and Viking Ocean Cruises to these destinations:
Explorer of the Seas (Jan 31 - Feb 9, 2014)
Eastern Caribbean (Bayonne, San Juan, Charlotte Amalie, Samana, Labadee, Bayonne)

Cruise Director: Leigh Xuereb
Lecture topics:

"The Caribbean and the European Age of Discovery"
"San Juan and the Triangular Trade"
"St. Thomas, U.S. Virgin Islands, and The Danish Imperial Experience"
"Hispaniola: The Tale of Two Countries"
"The Golden Age of Caribbean Piracy"

Legend of the Seas (June 7 - 18, 2014)
Arctic Circle (Copenhagen, Ålesund, Honningsvag, Tromsø, Geiranger, Olden, Bergen, Copenhagen)

Cruise Director: Topi Ylonen
Lecture Topics:

"Velkommen til Norge (Welcome to Norway)"
"Ålesund: Art Nouveau City in the Land of the Vikings"
"North Cape, Sami, and the Land of the Midnight Sun: The World of the Arctic"
"Tromsø: Norway's Arctic Capital"
"Fjord Country, Land of the Vikings"
"Bergen through the Centuries: From Hanseatic Trade Center to Modern Cultural Hub"
"Wonderful, Wonderful Copenhagen"

Brilliance of the Seas (July 1 - 13, 2014)
Baltic and Russia (Copenhagen, Tallinn, St. Petersburg, Helsinki, Stockholm, Visby, Copenhagen)

Cruise Director: Dru Pavlov
Lecture Topics:

"The Eastern Baltic: From the Viking Age to the EU"
"St. Petersburg: Russia's 'Window to the World"
"Empires in the Baltic: From the Vasas to the Romanovs"
"The World of the Vikings"
"Wonderful, Wonderful Copenhagen"

Disney Magic (June 6 - June 13, 2015)
Norwegian Fjords (Copenhagen, Stavanger, Ålesund, Geiranger, Bergen, Copenhagen)

Cruise Director: Brent Davies
Lecture Topics:

"Velkommen til Norge (Welcome to Norway)"
"Stavanger and Ålesund: From Viking Strongholds to North Sea Oil Centers"
"Geiranger: In the Heart of Fjord Country and the Land of the Vikings"
"Bergen through the Centuries: From Hanseatic Trade Center to Modern Cultural Hub"
"Wonderful, Wonderful Copenhagen"

Brilliance of the Seas (August 22 - Sept 3, 2015)
Baltic and Russia (Harwich, Copenhagen, Tallinn, St. Petersburg, Helsinki, Stockholm, Skagen, Harwich)

Cruise Director: Steve Davis
Lecture Topics:

"Wonderful, Wonderful Copenhagen"
"The Eastern Baltic: From the Viking Age to the EU"
"St. Petersburg: Russia's 'Window to the World'"
"Empires in the Baltic: From the Vasas to the Romanovs"
"The World of the Vikings"

Brilliance of the Seas (September 3 - 18, 2015)
Transatlantic (Harwich, Le Havre, Cork, Klaksvik, Reykjavik, Halifax, Boston)

Cruise Director: Clo O'Connor
Lecture Topics:

"Cork: Ireland's Gateway to the Atlantic"
"Paris, Le Havre, and Portland: The Norman/English Connection"
"Klaksvik - Irish Monks, Sheep, and Viking Settlers: Settlement of the Faroes and North Atlantic Islands"
"Reykjavik: Capital of the Land of Fire and Ice"
"Viking Sailing Technology," "Viking Colonization in the North Atlantic: Greenland and North America"
"Gudrid the Far-Travelled: Viking Age Globetrotter"
"Halifax, Nova Scotia: Atlantic Canada's 'New Scotland'"
"Boston: Cod, Whales, and Lobsters - from Colonial Village to Modern Metropolis"

Serenade of the Seas (January 15 - 25, 2016)
Southern Caribbean (Ft. Lauderdale, Tortola, St. Kitts, Dominica, Antigua, St. Maarten, Ft. Lauderdale)

Cruise Director: Bobby Brown
Lecture Topics:

"Sugar, Slaves, and Pirates: The Development of Tortola and the British Virgin Islands"
"Empires in Conflict: St. Kitts and the British Colonial Presence in the Caribbean"
"Dominica, 'Nature Island of the Caribbean'"
"Antigua: Britain's 'Gateway to the Caribbean"
"St. Maarten and the Dutch Colonial Experience"
"The Caribbean and the European Age of Reconnaissance"
"The Golden Age of Caribbean Piracy"

Disney Magic (May 29 - June 5, 2016)
Norwegian Fjords (Dover, Stavanger, Ålesund, Geiranger, Bergen, Dover)

Cruise Director: Clayton Lindsey
Lecture Topics:

"Velkommen til Norge (Welcome to Norway)"
"Stavanger and Ålesund: North Sea Oil Centers at the Gateway to Norway's Sami Culture"
"Geiranger: In the Heart of Fjord Country and the Land of the Vikings"
"Bergen through the Centuries: from Hanseatic Trade Center to Modern Cultural Hub"
"Viking Expansion to England, Ireland, and the Islands of the North Atlantic"

Disney Magic (June 29 - July 6, 2016)
Norwegian Fjords (Copenhagen, Stavanger, Ålesund, Geiranger, Bergen, Copenhagen)

Cruise Director: Clayton Lindsey
Lecture Topics:

"Velkommen til Norge (Welcome to Norway)"
"Stavanger and Ålesund: North Sea Oil Centers at the Gateway to Norway's Sami Culture"
"Geiranger: In the Heart of Fjord Country and the Land of the Vikings"
"Bergen through the Centuries: from Hanseatic Trade Center to Modern Cultural Hub"
"Wonderful, Wonderful Copenhagen"

Serenade of the Seas (April 17 - May 3, 2017)
Transatlantic (Fort Lauderdale, Ponta Delgada, Cobh, Le Havre (changed to Dover due to French harbor pilots strike), Zeebrugge, Amsterdam, Copenhagen)

Cruise Director: Carly Boileau
Lecture Topics:

"The European Age of Reconnaissance"
"The Western European Powers and the 'Golden Age of Piracy'"
"The World of the Vikings"
"Viking Sailing Technology"
"Ponta Delgada, Capital of the Azores: Portugal's Stepping Stones in the Atlantic"
"Cork: Ireland's Gateway to the Atlantic"
"Le Havre, Normandy, and Paris: From the Midule Ages to the Present"
"Zeebrugge (Bruges and Brussels): Belgium's Prominence, from the Romans to the EU"
"Amsterdam: Cultural and Economic Hub of Northwestern Europe"
"Wonderful, Wonderful Copenhagen"

Vision of the Seas (July 21 - August 1, 2017)
Baltic (Amsterdam, Warnemünde, Tallinn, St. Petersburg, Helsinki, Stockholm, Copenhagen)

Cruise Director: Ken Jones
Lecture Topics:

"Warnemünde: Gateway to Berlin"
"Tallinn and the Eastern Baltic: From the Viking Age to the EU"
"St. Petersburg: Russia's 'Window to the World'"
"Empires of the Baltic: From the Vasas to the Romanovs"
"The World of the Vikings"
"Wonderful, Wonderful Copenhagen"

Serenade of the Seas (April 20 - May 6, 2018)
Transatlantic (Fort Lauderdale, Ponta Delgada, Cobh, Le Havre, Zeebrugge, Amsterdam, Copenhagen)

Cruise Director: Carly Boileau
Lecture Topics:

"The European Age of Reconnaissance"
"The Western European Powers and the 'Golden Age of Piracy'"
"The World of the Vikings"
"Viking Sailing Technology"
"Ponta Delgada, Capital of the Azores: Portugal's Stepping Stones in the Atlantic"
"Cork: Ireland's Gateway to the Atlantic"
"Le Havre, Normandy, and Paris: From the Midule Ages to the Present"
"Zeebrugge (Bruges and Brussels): Belgium's Prominence, from the Romans to the EU"
"Amsterdam: Cultural and Economic Hub of Northwestern Europe"
"Wonderful, Wonderful Copenhagen"

Viking Star (August 25 - September 8, 2018)
Viking Homelands (Bergen, Eidfjord, Stavanger, Ålborg, Copenhagen, Warnemünde, Gdansk, Tallinn, St. Petersburg, Helsinki, Stockholm)

Cruise Director: Jenna Beaudoin
Lecture Topics:

"The Age of the Vikings"
"The Southern Baltic: Germany and Poland Through the Ages"
"Empires of the Baltic: From the Vasas to the Romanovs"
"St. Petersburg: Peter the Great's 'Window to the World"

Scenic Sailing Commentary: Eidfjord and Fjord Country

Viking Star (September 8 - September 22, 2018)
Viking Homelands (Stockholm, Helsinki, St Petersburg, Tallinn, [Gdansk cancelled], Warnemünde, Copenhagen, Ålborg, Stavanger, Eidfjord, Bergen)

Cruise Director: Jenna Beaudoin
Lecture Topics:

"The Age of the Vikings"
"The Southern Baltic: Germany and Poland Through the Ages"
"Empires of the Baltic: From the Vasas to the Romanovs"

Scenic Sailing Commentary: The Stockholm Archipelago, and Eidfjord and Fjord Country

Viking Sea (May 9 - May 23, 2019)
Viking Homelands (Stockholm, Helsinki, St Petersburg, Tallinn, Gdansk, Warnemünde, Copenhagen, Ålborg, Stavanger, Eidfjord, Bergen)

Cruise Director: Aaron Syfert
Lecture Topics:

"Imperial Russia"
"The Hanseatic League"
"The Vikings"

Roundtable Q&A Discussions:

"Russia: European or 'Outsider'?"
"Why Did They Leave? Scandinavian Immigration to the US and Canada"
"Scandinavia's Unwritten Social Code--Janteloven & Daily Life"
"Nordic Noir: Scandinavian Crime Fiction as Social Commentary"

Scenic Sailing Commentary: The Stockholm Archipelago

Viking Sea (May 23 - June 6, 2019)
Viking Homelands (Bergen, Eidfjord, Stavanger, Ålborg, Copenhagen, Warnemünde, Gdansk, Tallinn, St. Petersburg, Helsinki, Stockholm)

Cruise Director: Aaron Syfert
Lecture Topics:

"Imperial Russia"
"The Hanseatic League"
"The Vikings"

Roundtable Q&A Discussions:

"Russia: European or 'Outsider'?"
"Scandinavia's Unwritten Social Code--Janteloven & Daily Life"
"Nordic Noir: Scandinavian Crime Fiction as Social Commentary"

Scenic Sailing Commentary: Eidfjord and Fjord Country

Viking Sun (August 3 - August 17, 2019)
British Isles Explorer (Greenwich, Dover, Dublin, Holyhead [Wales], Liverpool, Belfast, The Highlands [Ullapool], Kirkwall [Orkney Islands], Edinburgh, The Highlands [Invergordon], Lerwick [Shetland Islands], Bergen)

Cruise Director: Corinne Bach
Lecture Topics:

"The Hanseatic League"
"The Vikings"
"History of Britain"
"The Bayeux Tapestry"

Roundtable Q&A Discussions:

"Britain and Europe-Past and Future"
"Nordic Noir: Scandinavian Crime Fiction as Social Commentary"
"The Irish Diaspora: The Impact of Irish Immigration in America"

Bayeux Tapestry "Stairway Tours"

Viking Sun (August 17 - August 31, 2019)
British Isles Explorer (Bergen, Lerwick [Shetland Islands], The Highlands [Invergordon], Edinburgh, Kirkwall [Orkney Islands], Belfast, Liverpool, Holyhead [Wales], Dublin, Dover, Greenwich)

Cruise Director: Corinne Bach
Iconic Lecture Topics:

"The Hanseatic League"
"The Vikings"
"History of Britain"
"The Bayeux Tapestry"

Roundtable Q&A Discussions:

"Britain and Europe-Past and Future"
"Monasticism and the Survival of Western European Culture"
"The Irish Diaspora: The Impact of Irish Immigration in America"

Bayeux Tapestry "Stairway Tours"

Viking Venus (September 2 - September 12, 2021)
Malta & Greek Isles Discovery (Valletta, Kalamata, Athens, Santorini [Thira], Rhodes, Crete, Valletta)

Cruise Director: Heather Clancy
Iconic Lecture Topics:

"History of Malta"
"Greek Civilization"
"The Ottoman Empire"

Forum Discussions:

"Malta's Heritage at the Crossroads of the Mediterranean"
"The Legacy of Greek Civilization"

Viking Venus (September 12 - September 22, 2021)
Malta & Adriatic Jewels (Valletta, Dubrovnik, Split, Zadar, Šibenik, Mgarr [Victoria], Valletta)

Cruise Director: Heather Clancy
Iconic Lecture Topics:

"History of Malta"
"The Roman Empire"
"The Venetian Republic"
"The Bayeux Tapestry"

Forum Discussions:

"Malta's Heritage at the Crossroads of the Mediterranean"
"The Mediterranean Heritage, from 'Roman Sea' to Modern Seaway"

Viking Orion (April 9 - May 3, 2022 -- three cruises on the following itinerary)
Pacific Coast Explorer (Los Angeles, San Diego, San Francisco, Astoria, Victoria, Vancouver)

Cruise Director: Richard Green
Iconic Lecture Topics:

"Indigenous People of the Pacific Northwest"
"Canadian Exploration"
"The Pacific Northwest: Exploration and Development"
"The Bayeux Tapestry"
"The History of Navigation"

Viking Sky (June 4 - 11, 2022)
Iconic Western Mediterranean (Barcelona, Montpelier, Marseille, Montecarlo, Florence/Pisa, Rome)

Cruise Director: Jenna Beaudoin
Iconic Lecture Topics:

"History of France"
"Italian Renaissance"
"The Bayeux Tapestry"


Forum Discussions:

"What is History?"
"The Mediterranean heritage, from 'Roman Sea' to modern seaway"

Viking Sky (June 11 - 18, 2022)
Italian Sojourn (Rome, Naples, Sicily, Crotone, Bari, Šibenik, Venice)

Cruise Director: Jenna Beaudoin
Iconic Lecture Topics:

"Roman Empire"
"Venetian Republic"
"The Bayeux Tapestry"


Forum Discussions:

"The legacy of the Roman Empire"
"What is history?"

---

Viking Saturn (July 5 - 19, 2023)
Iceland and Norway's Arctic Explorer (Bergen, Geiranger, Narvik, Lofoten [Leknes], Tromsø, Honningsvåg, Longyearbyen, Svalbard, Jan Mayen, Isafjördur, Reykjavik)

Viking Saturn (July 19 - August 2, 2023)
Iceland and Norway's Arctic Explorer (Reykjavik, Isafjördur, Jan Mayen, Svalbard, Longyearbyen, Honningsvåg, Tromsø, Lofoten [Leknes], Narvik, Geiranger, Bergen)

Viking Jupiter (September 6 - 20, 2023)
Trade Routes of the Middle Ages (Bergen, Amsterdam, Bruges, Paris (Le Havre), Portsmouth, Falmouth, Porto, Granada, Murcia, Barcelona)

Viking Jupiter (September 21 - 27, 2023)
Iconic Western Mediterranean (Barcelona, Montpelier, Marseille, Montecarlo, Florence/Pisa, Rome)

Viking Jupiter (September 27 - October 4, 2023)
Italian Sojourn (Rome, Naples, Sicily, Crotone, Bari, Šibenik, Venice)
---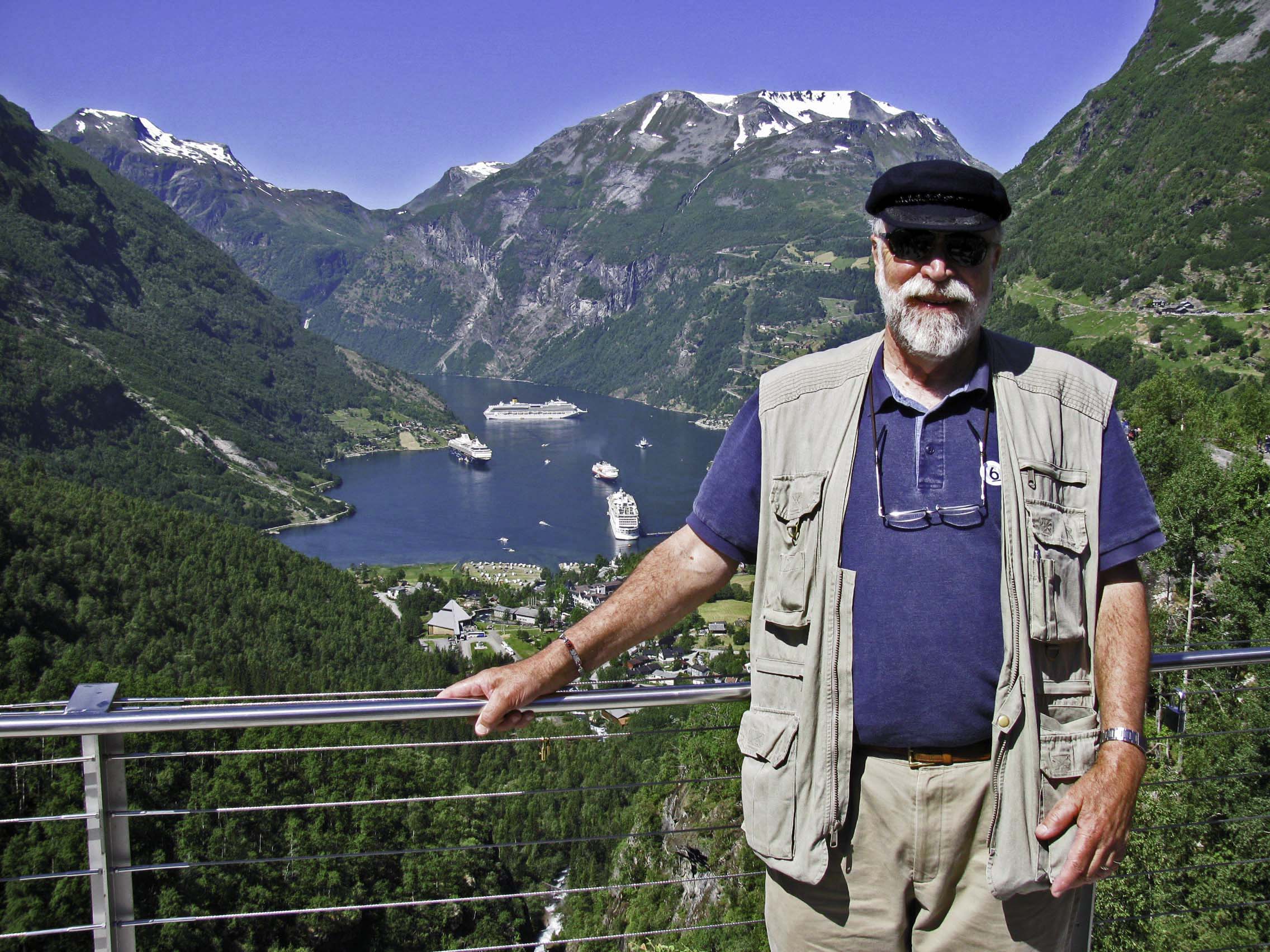 Overlooking Geirangerfjord, Norway, June 2014