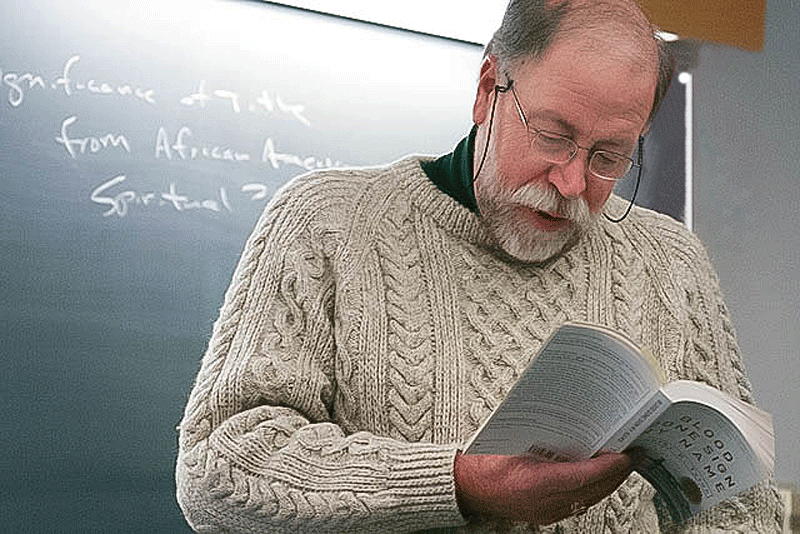 Photo by Hanna Rosholt
---
I'm Professor Emeritus of History at Luther College, in Decorah, Iowa, where I taught from 2000 to 2013.
More specific details about much of what is summarized below can be found on my curriculum vitae (pdf document).
Although I was born in Colfax, Washington, near where my father was a wheat farmer on the Palouse, I grew up in Western Washington, near Burlington, where I graduated from Burlington-Edison High School. For information about the Burlington-Edison High School Class of 1965's 50-year Reunion, held July 11, 2015, as well as other information related to the class (such as grade school photos and an "In Memoriam" page), click here.
I attended Pacific Lutheran University, in Tacoma, Washington, and received my Bachelor of Arts degree in history in 1969. In the summer of 1968, I was a student at the University of Oslo International Summer School. That experience not only enhanced my understanding of my Scandinavian heritage, but also shaped the course of much of my subsequent academic career.
During finals week of my senior year, I was informed that my planned service in the Peace Corps (in Ethiopia) had been cancelled, following a medical evaluation of my knee. By the time the physicians at the U.S. Army Induction Center in Seattle came to the same conclusion, and my local Selective Service Office told me I was no longer a suitable candidate for military service, it was too late to apply to graduate school that year. I spent the next two years working as a draftsman for a civil engineering firm in Seattle, HNTB.
I began graduate study at Washington State University (WSU), in Pullman, in the summer of 1971. I completed my M.A. in History the following year, and continued study toward my Ph.D., specializing in modern German history. With the support of a Fulbright Scholarship, I attended the University of Heidelberg, Germany, during the 1975--76 academic year, and conducted archival research for my dissertion. My research focused on U.S. policies regarding political activity in occupied Germany in the first months after World War II. At the end of my Fulbright Scholarship, I remained in the Heidelberg area while I completed my dissertation, working as a clerk-typist for the U.S. Army at the US Army-Europe (USAREUR) Headquarters in Heidelberg.
I returned to Washington State and defended my dissertation in August 1977. (Because the deadline had passed for the awarding of degrees during the summer session, the date of my Ph.D. is 1978.) In September 1977, I began working as a study abroad advisor in WSU's Office of International Education, eventually becoming Associate Director for Overseas Study. In addition to my responsibilities in that office, I was also active in NAFSA: The Association of International Educators. I served as a member of the national leadership team of the Section on US Students Abroad (SECUSSA), and later as the SECUSSA Chair (1990-91). While I was still active in SECUSSA, I co-edited NAFSA's Guide to Education Abroad for Advisers and Administrators (1993). I also taught history courses in the WSU Honors Program, and in 1989 taught Scandinavian History for the first time in the WSU History Department.
After I was widowed in February 1989, I opted to leave International Education administration in order to teach full time in the WSU History Department. From 1989 to 2000, I taught courses covering modern European history, Hitler and Nazi Germany, Scandinavian History, the Vikings in History, and World Civilizations since 1500. In 1991, the Associated Students of Washington State University (ASWSU) selected me for the "Faculty of the Year" award. For several years, I also taught part-time at the University of Idaho (UI), located 9 miles east of WSU in Moscow, Idaho.
Together with Fred C. Bohm, a fellow PLU alum and good friend from graduate school at WSU, I co-authored Norse to the Palouse: Sagas of the Selbu Norwegians. Published in 1990, it is the history of the small Norwegian settlement near La Crosse, Washington, where both my maternal and paternal grandparents settled when they immigrated from Norway.
A brief history of the Walli family in America and Canada (my maternal relatives) can be found at this link.
In 2000, I accepted a position to teach in the Department of History at Luther College, in Decorah, Iowa. I remained there until I retired in 2013. My course offerings at Luther included classes covering European history from the Roman Empire to modern Europe, as well as Scandinavian Immigration History.
The list of the courses I taught at WSU, UI, and Luther can be found here.
Because of Luther's strong Norwegian heritage (it is the oldest Norwegian Lutheran college in the United States), its archival holdings offered me abundant sources for academic research in the field of Scandinavian immigration. I had articles in Norwegian-American Studies (published by the Norwegian American Historical Association--NAHA) and Norwegian-American Essays (published by NAHA-Norge--the Norwegian branch of NAHA), as well as numerous book reviews in Scandinavian Studies and several regional historical journals.
My publications in periodicals are listed here.
I also published two books featuring collections in the Luther College Archives. The first was Linka's Diary: A Norwegian Immigrant Story in Word and Sketches. It is a new translation of the diary of Linka Preus, an early Norwegian immigrant to Wisconsin. Her husband, Hermann, was one of the founders of the Norwegian Lutheran Synod. I was assisted in the translation by Eva-Kristin Urestad Pedersen, who was a student from Norway attending Luther College at the time. In addition to the diary itself, this new translation of the diary also includes Linka's sketches, which document many key elements of her life in America. The sketches were edited and annotated by Gracia Grindal, Professor Emerita at Luther Seminary.
The Archives also house a unique collection of letters, written by men and women from Luther College who were serving in various branches of the United States military during World War II. I edited those for publication in a two-volume collection, Luther College Goes to War.
In addition to my academic publications, I also wrote a novel, Ivy, which was published in 2017. Ivy is an academic satire, and is a work of fiction. But friends and colleagues around the country--and abroad--have told me that the characters remind them of people whom they have met in their own academic lives.
For more information about my books, follow the "BOOKS" link on the Menu.
After I retired in 2013, I began lecturing on cruise ships. I've been an enrichment/destination speaker for Royal Caribbean International on cruises in the Caribbean, the Baltic, along the coast of Norway as far north as North Cape, and on three transatlantic cruises. I also spoke on Disney Cruises' first three "Norwegian Fjords" cruises in 2015 and 2016. In 2018, I had my first experience as an enrichment speaker for Viking Ocean Cruises, and beginning in May 2019, I began lecturing for them in a new capacity as a Viking Resident Historian.
To learn more about my experience on cruise ships, follow the "LECTURING AT SEA" link.
When I retired from Luther College, one of my students, Bailey Mulholland, made a video to honor my teaching career.
You can see the video on YouTube here.
---